State fund rife with money laundering, financial crime allegations
Unthinkable. Impossible. Three months ago, the arrest of former Malaysian prime minister Najib Razak seemed exactly that—unthinkable, impossible. But a stunning election result two months ago and a rejuvenated investigation into Malaysia's 1MDB Fund resulted today in the arrest of Najib.
The formerly untouchable Najib was just arrested on charges related to alleged corruption and money laundering in connection with the scandal-ridden 1MDB. The 1MDB Fund had been established under the guise of a massive municipal-projects and global investments fund but allegedly quickly devolved into a fund for personal pay-outs to top politicians and those connected to them.
U.S. prosecutors have accused Najib of taking more than a quarter of a billion dollars from the fund to purchase luxury goods and enrich his personal accounts. The Wall Street Journal in June detailed the ultra-luxury purchases credited to Najib's wife. Purchases included a $27 million pink-diamond necklace and a massive collection of high-end handbags and jewelry. Another relative of Najib allegedly spent hundreds of millions to fund a production company that funded Hollywood movies like "The Wolf of Wall Street."
The U.S. Justice Department allege that Najib and corrupt accomplices engaged in money laundering of fund proceeds totaling about $4.5 billion. Justice Department officials believe this laundered money flowed through U.S. financial institutions.
The U.S. has been investigating financial crimes related to the 1MDB Fund since 2015. In a press release from last year, the Justice Department announced its intention to recover as much money as possible from the criminal activity.
According to complaints filed by the Justice Department related to money laundering through U.S. financial institutions, "the members of the conspiracy – which included officials at 1MDB, their relatives and other associates – diverted more than $4.5 billion in 1MDB funds. Using fraudulent documents and representations, the co-conspirators allegedly laundered the funds through a series of complex transactions and shell companies with bank accounts located in the U.S. and abroad.These transactions allegedly served to conceal the origin, source and ownership of the funds, and ultimately passed through U.S. financial institutions to then be used to acquire and invest in assets located in the U.S. and overseas."
________________________
Global Software Ecosystem for AML/CTF and BSA/AML
With AML Partners' platform technology for RegTech, updating and upgrading your AML and eGRC software solutions is easier, faster, and much less expensive. Contact us today to explore how platform technology and our end-to-end AML Ecosystem SURETY Eco and the SURETY modules –powered by the RegTech One platform–can transform the efficiency and effectiveness of your unique AML Compliance efforts. SURETY Eco includes fully integrated modules for CDD/KYC on-boarding, behavior/transaction monitoring, and sanctions screening. And AML Partners simplifies your end-to-end fully integrated AML Compliance efforts even further with an optional Subpoena Search module for FinCEN 314a and similar subpoena searches. Contact us today to learn more or schedule a demo of SURETY Eco, the AML Ecosystem powered by the RegTech One platform. With extraordinary configurability and built for API extensibility, the RegTech One platform powers not only an end-to-end AML ecosystem but also CECL workflows, vendor management, cyber risk workflows, FCPA workflows, and so much more.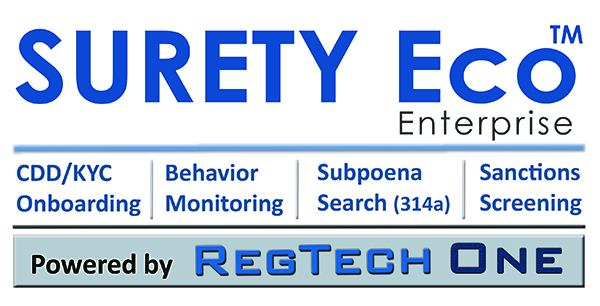 SaveSave
SaveSave