Sanctions regulations apply to all industries, not just financial institutions
Smart financial institutions pay close attention to OFAC and sanctions regulations, but now other industries may need to boost their attention, as well. A Wall Street Journal report last week detailed how U.S. sanctions violations are increasingly being prosecuted beyond the financial-services industry.
The U.S. Treasury Department details on its website its enforcement actions and civil penalties. By far the largest enforcement penalty in 2017 came from ZTE Corp., a Chinese telecommunications firm fined for doing business with Iran.
In a press release from March of 2017, the Treasury Department announced the following: "From on or about 2010 to 2016, ZTE's highest-level management developed, approved, and implemented a company-wide plan that utilized third-party companies to conceal and facilitate ZTE's illegal business with Iran.  Members of ZTE's highest-level management were specifically aware of and considered the legal risks of engaging in such activities prior to signing contracts with Iranian customers and supplying U.S.-origin goods to Iran.  Essential to the performance of such contracts was ZTE's procurement of and delivery to Iran of U.S.-origin goods."
Treasury secretary Steve Mnuchin said at the time that the $100 million fine and enforcement against a non-financial institution "sends a powerful message that Treasury will aggressively pursue any company that willfully violates U.S. economic sanctions laws and obstructs federal investigations of such violations."
The Journal report noted that analysts in the field describe the banking industry as gradually maturing relative to its enforcement of sanctions regulations and AML Compliance programs. With improved attention and practices within the financial sector, regulators can more easily expand their enforcement efforts to other industries. Journal sources also expected regulators to levy more and bigger fines for "individual conduct" in violation of sanctions regulations.
________________________
Global Software Ecosystem for AML/CTF and BSA/AML
The stakes of global AML Compliance for AML/CTF and BSA/AML are higher than ever. Contact us today to explore how our end-to-end AML Ecosystem SURETY Eco and the SURETY modules can transform the efficiency and effectiveness of your unique AML Compliance efforts. SURETY Eco includes fully integrated modules for CDD/KYC on-boarding, behavior/transaction monitoring, and sanctions screening. And AML Partners simplifies your end-to-end fully integrated AML Compliance efforts even further with an optional Subpoena Search module for FinCEN 314a and similar subpoena searches. Contact us today to learn more or schedule a demo.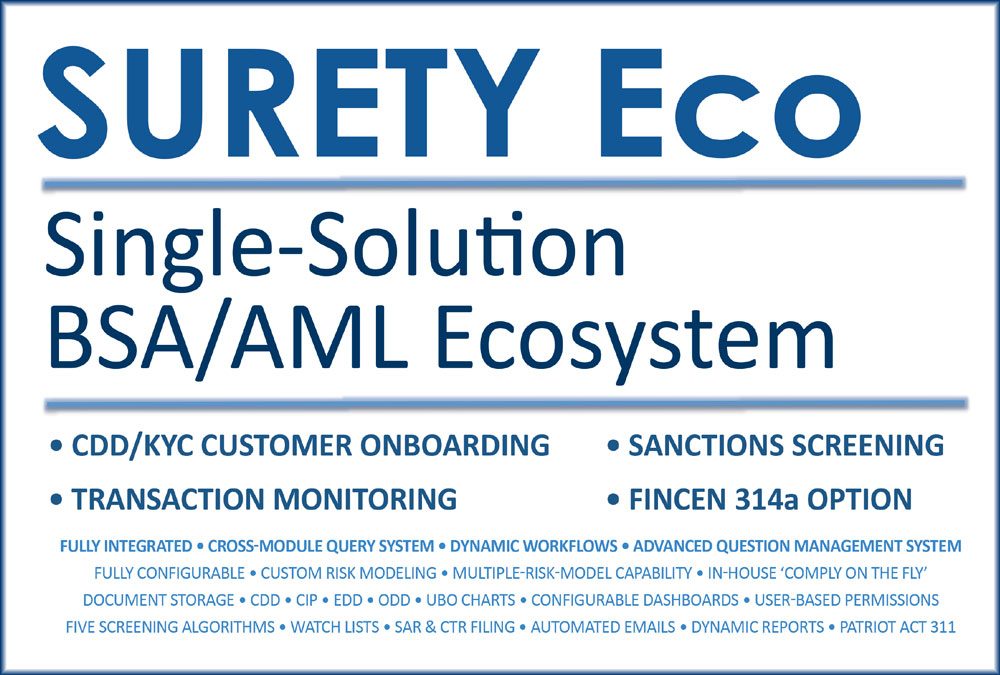 SaveSave
SaveSave