Unrivaled AML Solutions–London Seminar
Are you ready for top technologies designed to surpass ever-growing requirements in AML? Join us in London on the 18th of November for an AML seminar and complimentary breakfast focusing on new opportunities to Rethink Your AML with 21st Century technologies created precisely for today's AML environment. Experts from AML Partners and Compliance Register Consulting will detail for guests  the latest technology solutions for KYC, AML/CFT, and Sanctions.
Those joining us will observe firsthand the fully integrated and wholly configurable end-to-end AML ecosystem SURETY Eco from AML Partners.  SURETY Eco provides extraordinary configurability in Risk modeling, Question Management, Workflow design, and Screening. See for yourself why Global Financial Institutions have embraced SURETY's AML Software Ecosystem as they strive to comply with regulatory and examiner expectations in KYC-AML-Sanctions.
Participants will also gain understanding of how London-based Compliance Register Consulting can provide the needed expertise to streamline KYC, AML/CFT, and Sanctions processes through high-tech integration of the SURETY Eco AML software solution.
 To sign up and learn more details,
email us
today.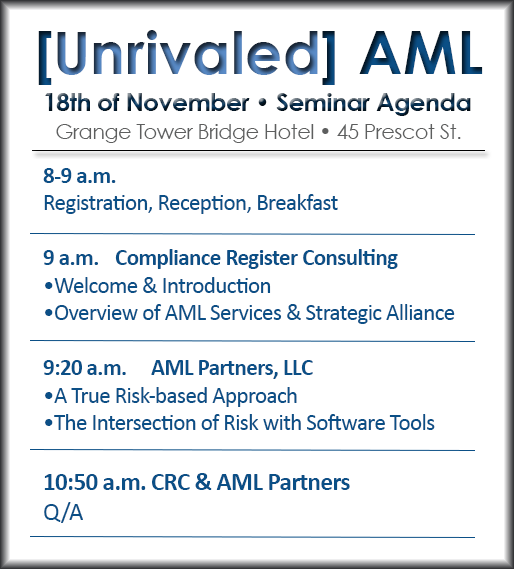 _______________________
A Word from AML Partners' CEO
By Frank Cummings
With the increasing assertiveness of regulators globally, it is vitally important that firms pay attention to the new challenges and to up their game. Compliance failures will get ever more expensive. With this in mind, we created AML Partners as a specialty firm more than a decade ago to provide top-quality, highly responsive solutions to rapidly evolving challenges in AML and counter-terror financing. We knew that leveraging our deep expertise in AML/CFT, enterprise IT, and software development could produce powerful 21st-century solutions to previously intractable Compliance problems for financial institutions. The culmination of our tremendous expertise and our passion for AML/CFT solutions today is SURETY Eco, the most extraordinarily configurable AML Ecosystem in existence.
As CEO of AML Partners and the creator of SURETY Eco, I personally invite you to join me for the U.K. debut of Surety Eco. We at AML Partners are so proud of our AML/CFT software solution, and we are tremendously excited to show you how SURETY Eco will transform the effectiveness and efficiency of your AML Core Compliance program. With our unique "Comply on the Fly" technology, you will witness step by step how SURETY Eco transforms itself seamlessly to your unique risk appetite and your various AML/CFT requirements.
We tremendously value your time and attention; and during our presentation, we will demonstrate AML Partners' commitment to high quality, highly reliable, and extraordinarily configurable enterprise software for financial institutions. You will gain precise knowledge of how our AML Ecosystem will enhance your specific systems and controls. We will demonstrate how at every turn SURETY Eco will meet and exceed regulators' expectations—meeting, exceeding, and 'complying on the fly' are cornerstones of our company, and your success in regulatory compliance drives every design decision in SURETY Eco.
We will also demonstrate how our companion solution, InDuro, can meet your unique needs regarding Vendor Management, IT Risk Management, HR Screening and Risk, and more. Further, we are excited to announce our strategic alliance with Compliance Register Consulting. With our shared expertise and longtime service in the Compliance and Regulatory markets, we look forward to working with our strategic partners to help boost the success of financial institutions in the EMEA and APAC regions and their foreign branches around the world.
I am delighted also to be speaking at the 2016 Financial Crime Compliance Summit on 21 November – this event is the 9th annual conference organized by The Compliance Register. For details, please see "Events" at www.ComplianceR.com
With Best Regards,
Frank Cummings
CEO of AML Partners
____________________
SURETY Eco: AML Compliance for An Evolving World
Does your AML Compliance software solution adapt as quickly as the AML Compliance environment changes around you? SURETY Eco, our AML Compliance Ecosystem, is in-house configurable for virtually every change in AML Compliance requirements. Our  "Comply on the Fly" technology can transform the efficiency and effectiveness of your AML/CTF Compliance. To learn about SURETY Eco and its fully integrated CDD/KYC, transaction monitoring with optional 314a, and sanctions screening capabilities, call us today. We will show you how SURETY Eco adapts completely to your unique risk-based approach.