AML nightmare: 400 fake accounts opened with fake ID documents
Unlike most bankers who continually strive to stay on the right side of AML Compliance requirements, disgraced Barclays banker Nilesh Sheth went all in on helping Eastern European cybercriminals launder £16 million. Britain's National Criminal Agency led the investigation and announced the sentencing.
The story of the money laundering allegations broke earlier this year, and Sheth learned last week that he has been sentenced to four years in prison for his banking behaviors that facilitated the laundering. Barclays itself was not implicated, and the bank fully assisted the investigating authorities, according to the National Crime Agency.
Sheth confessed to the money laundering. Investigations determined that in his role as a personal banking manager at Barclays he used false documents to create nearly 400 improper bank accounts for a ring of cyber thieves who were in the U.K. illegally.
The hackers used the bank accounts to move criminal funds around and make the funds difficult to track before transferring them to their home bases in Eastern Europe. Authorities ascertained that Sheth helped the thieves move £16 million to Eastern Europe between 2013-2016.
British authorities had the cyber thieves under surveillance, and they observed frequent meetings between the thieves and their banker.
____________________________________
Global Software Ecosystem for AML/CTF and BSA/AML
The stakes of global AML Compliance for AML/CTF and BSA/AML are higher than ever. Contact us today to explore how our end-to-end AML Ecosystem SURETY Eco and the SURETY modules can transform the efficiency and effectiveness of your unique AML Compliance efforts. SURETY Eco includes fully integrated modules for CDD/KYC on-boarding, behavior/transaction monitoring, and sanctions screening. And AML Partners simplifies your end-to-end fully integrated AML Compliance efforts even further with an optional Subpoena Search module for FinCEN 314a and similar subpoena searches. Contact us today to learn more or schedule a demo.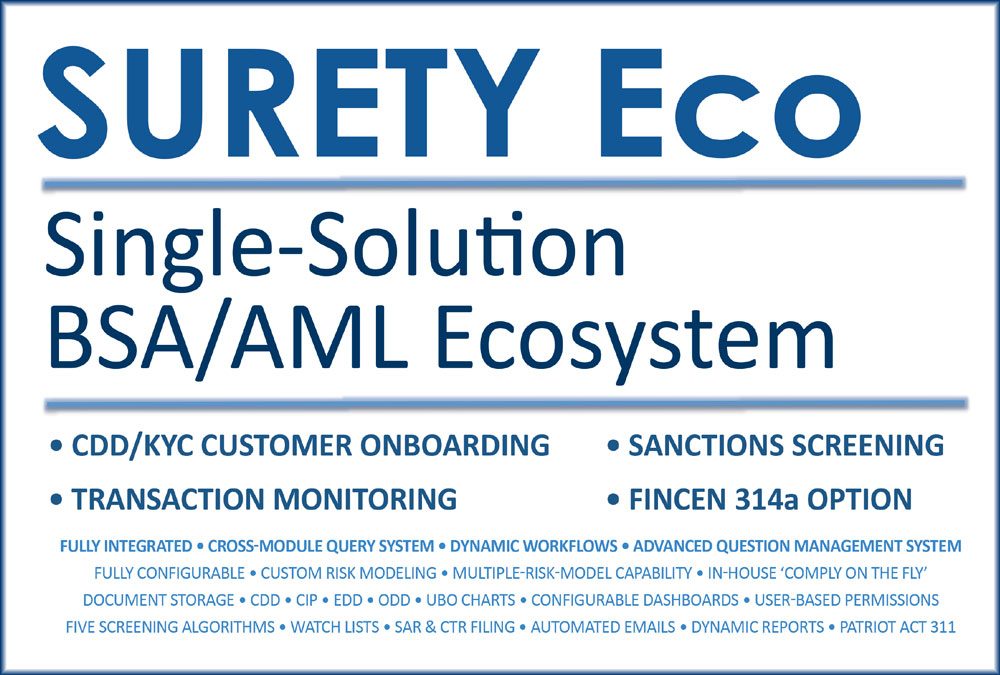 SaveSave
SaveSave