Ecosystem approach to AML Compliance leads RegTech innovation, effectiveness
AML Compliance professionals and their institutions invest time and money in AML Compliance, and still they wonder whether their AML software solutions will measure up when the pressure is on. Relieving that pressure requires visionary design and software ingenuity—the design and ingenuity in SURETY Eco, the AML Ecosystem.
An AML Ecosystem that now—today—breaks down silos, integrates with legacy systems, provides myriad configuration options, works across systems and languages and borders, and digitizes and automates AML Compliance tasks from the start of a customer's Legitimacy Lifecycle to the end. On-boarding to off-boarding and everything in between.
The AML Ecosystem approach—unique to SURETY Eco in the RegTech world—is the key. Ours is an AML solution of interconnecting and interacting parts. It is an AML ecosystem in which KYC/CDD on-boarding, transaction/behavior monitoring, sanctions screening, workflows, permissions, risk analytics, risk management, document collections, and every other AML Compliance imperative work in concert—effectively and efficiently—to achieve each institution's unique Risk-based Approach.
SURETY Eco is the product of both deep and broad AML expertise combined with expert software engineering. And it's every dream feature desired by AML Compliance experts. Available today.
Here are just a few of the benefits of AML Partners' AML ecosystem approach in SURETY Eco:
Fully integrated ecosystem uniting KYC/CDD onboarding, transaction/behavior monitoring, sanctions screening, and subpoena searching
Dynamic workflows and user-based permissions
Dynamic question management
Cross-module query system
Custom risk modeling
Multiple risk-model capability
Dynamic Case Manager
Fully configurable in-house—a customized solution without custom programming contracts
Digital document storage
CDD/CIP/EDD/ODD
UBO charts and registry
Configurable dashboards for each user
Five screening algorithms
Watch lists
SAR/CTR filing
Dynamic reports
Customizable language option for ease of use across countries
Automated email system
Full archive system
SURETY Eco is the AML Compliance software solution from experts with years on-site in the field working on behalf of their clients. See for yourself—the future is now. And it is an AML Ecosystem that is effective, efficient, high-tech, and affordable.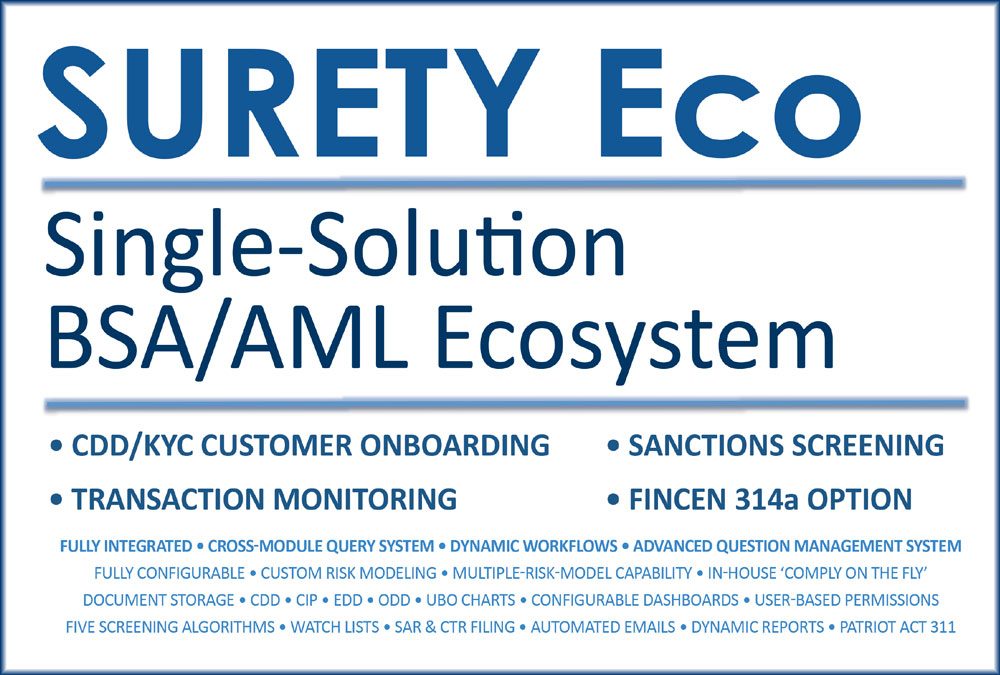 SaveSave