Banks wrestle with chasm between state and federal marijuana laws
A candidate for state office in Florida is losing her campaign account at Wells Fargo due to her political platform, which includes support for legalized medical marijuana. Nikki Fried, a candidate for state agriculture commissioner, received notice from Wells Fargo on Aug. 3 that her campaign account would be closed within 30 days.
Fried shared correspondence with the Miami Herald, which reported that the bank informed the candidate that it could not provide services in support of a  "political platform … advocating for expanded patient access to medical marijuana" and Fried had deposited "funds received from lobbyists from the medical marijuana industry."
At a news conference in Tallahassee, Fried attributed the bank's decision to "the failures of our laws, institutions, [and] politicians to respect patients and doctors [and] the will of the voters." Voters in Florida overwhelmingly approved legalizing medical marijuana in 2016, but marijuana remains a Class 1 drug at the federal level. Attorney General Jeff Sessions has repeatedly taken a hard stance against marijuana use.
The result of this state/federal tension and federal designation means that growers and sellers who operate legal businesses at the state level struggle to find banking services because of banks' anti-money laundering requirements and Compliance programs. The Miami Herald story notes that this is an especially high risk for banks in Florida due to the state's high numbers of international customers and the state's prevalence of money laundering operations.
But Fried emphasizes that she is not a grower nor a seller of medical marijuana but rather she is a politician who has advocated for legal access to medical marijuana.
Wells Fargo provided a statement responding to its rationale in making this decision: "It is Wells Fargo's policy not to knowingly bank or provide services to marijuana businesses or for activities related to those businesses, based on federal laws under which the sale and use of marijuana is illegal even if state laws differ. We continually review our banking relationships to ensure we adhere to strict regulatory and risk guidelines."
If other financial institutions choose to follow this type of risk mitigation related to AML Compliance requirements, numerous candidates at both the state and federal level could see their access to banking services similarly denied.
While Fried expressed anger with Wells Fargo over its decision, a stark reality for financial institutions is that the state and federal chasm over the legality of medical marijuana, and marijuana in general, puts institutions and their marijuana-related customers in high-risk positions. Based on the popularity of medical marijuana laws in states and the strident opposition to any legalized marijuana by the U.S. attorney general, no clear path forward is expected any time soon.
_____________________________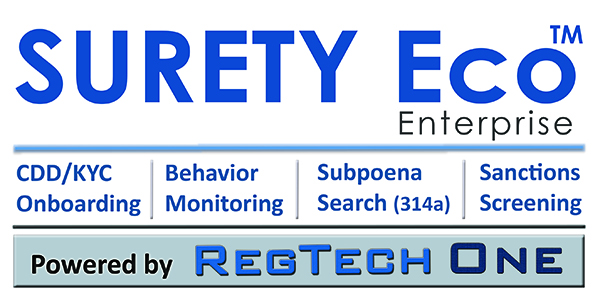 RegTech Platform and Global Software Ecosystem for AML/CTF and BSA/AML
With AML Partners' platform technology for RegTech, updating and upgrading your AML and eGRC software solutions is easier, faster, and much less expensive. Contact us today to explore how platform technology and our end-to-end AML Ecosystem SURETY Eco and the SURETY modules –powered by the RegTech One platform–can transform the efficiency and effectiveness of your unique AML Compliance efforts. SURETY Eco includes fully integrated modules for CDD/KYC on-boarding, behavior/transaction monitoring, and sanctions screening. And AML Partners simplifies your end-to-end fully integrated AML Compliance efforts even further with an optional Subpoena Search module for FinCEN 314a and similar subpoena searches. Contact us today to learn more or schedule a demo of SURETY Eco, the AML Ecosystem powered by the RegTech One platform. With extraordinary configurability and built for API extensibility, the RegTech One platform powers not only an end-to-end AML ecosystem but also CECL workflows, vendor management, cyber risk workflows, FCPA workflows, and so much more.