Bank-account scheme helped Russian agents hide identities in campaign to sow discord
Prosecutors this week pulled back the curtain on the shadowy world of small-time fraud with the guilty plea of Richard Pinedo. Pinedo, 28, pleaded guilty to identity fraud connected to a scheme in which he sold bank-account numbers and stolen identities to help people circumvent security measures of online payment systems.
Pinedo's plea garnered nationwide coverage because he sold these account numbers and identities to Russian agents needing Paypal and other accounts to fund their sowing of political and social discord on sites like Facebook.
According to a report in the Los Angeles Times, Pinedo billed himself as "a digital marketing strategist who once ran a website that helped people get around security measures for online marketplaces such as Amazon and EBay."
According to court documents detailing the guilty plea, Pinedo admits to running a service called Auction Essistance, a company that "offered a variety of services designed to circumvent the security features of large online digitial payment companies…."
Pinedo further admits to selling bank account numbers through interstate and foreign commerce, specifically over the internet. Pinedo "obtained bank account numbers either by registering accounts in his own name or by purchasing accounts in the names of other people through the internet."
The illicit users of the stolen accounts registered for online services with these stolen account numbers as a way of circumventing security and identity verification of the online payment systems.
When the companies being targeted by the fraudulent users attempted to verify account ownership via de minimus trial deposits into those accounts, Pinedo told the fraudulent users the amount of the trial deposits so that they could verify the deposit amount to the banks, thereby falsely validating that they were the true account holder.
Pinedo in his plea admitted that he "knowingly transferred, possessed, and used, without lawful authority, hundreds of bank account numbers to aid and abet" the use of wires to defeat security measures.
Pinedo's business page for Auction Essistance remains active on LinkedIn and describes the company as follows: "Like most people, eBay as well as Amazon was a way to make a secondary income from selling household items all the way to retail type goods. More and more people have found out that eBay has suspended their accounts or have sided with buyers for ridiculous claims that these buyers have filed. As a result of that, negative feedback tarnishes the account and eBay then imposes restrictions or suspensions; thus making it even harder to sell. Amazon on the other hand are more strict and have policies that must be adhere to. One negative comment or feedback on your Amazon seller account and you are banned. We are committed to helping you to get back to selling or begin to sell for first timers."
His auctionessistance.com website also remains active and trumpets that they will help their customers "create untraceable eBay and PayPal accounts."
Pinedo will serve a six-month prison term for his role in selling stolen bank accounts and identities.
__________________________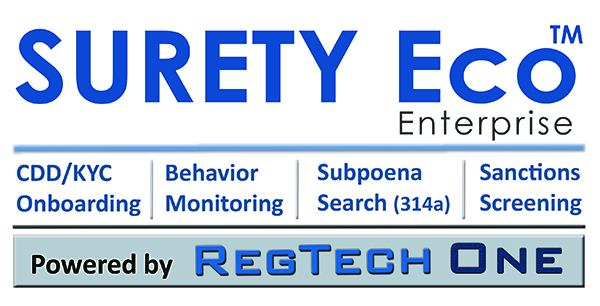 RegTech Platform and AML Ecosystem for end-to-end KYC/CDD and BSA/AML Compliance
With AML Partners' platform technology for RegTech, updating and upgrading your AML and eGRC software solutions is easier, faster, and much less expensive. Contact us today to explore how platform technology and our end-to-end AML Ecosystem SURETY Eco and the SURETY modules –powered by the RegTech Oneplatform–can transform the efficiency and effectiveness of your unique AML Compliance efforts. SURETY Eco includes fully integrated modules for CDD/KYC on-boarding, behavior/transaction monitoring, and sanctions screening. And AML Partners simplifies your end-to-end fully integrated AML Compliance efforts even further with an optional Subpoena Search module for FinCEN 314a and similar subpoena searches. Contact us today to learn more or schedule a demo of SURETY Eco, the AML Ecosystem powered by the RegTech One platform. With extraordinary configurability and built for API extensibility, the RegTech One platform powers not only an end-to-end AML ecosystem but also CECL workflows, vendor management, cyber risk workflows, FCPA workflows, and so much more.