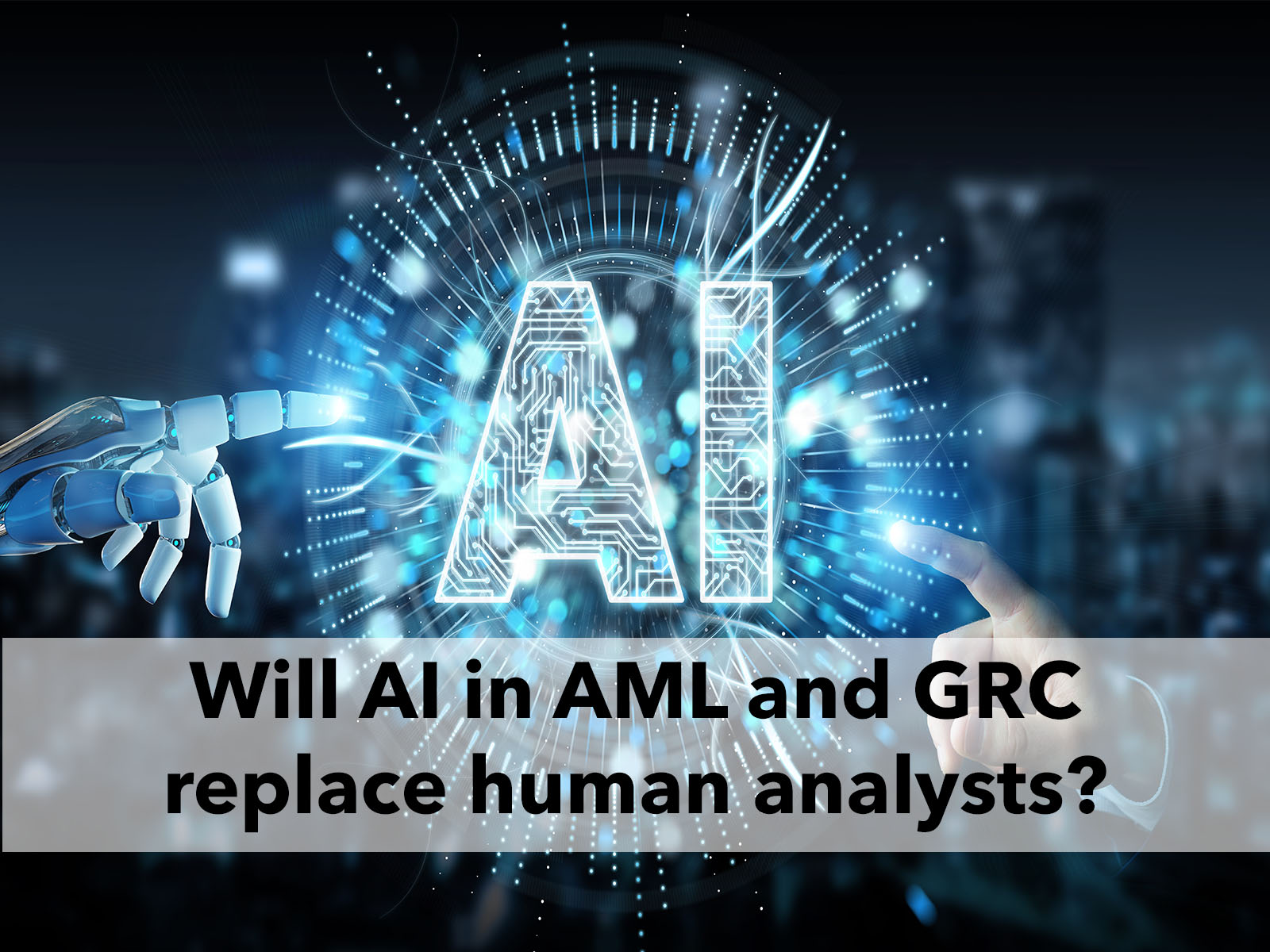 By Frank Cummings, CEO of AML Partners
Will GRC jobs be lost to AI/ML?
How many GRC and AML Compliance jobs will be lost to AI/ML in AML? I predict few if any at all. The sudden and somewhat disorienting explosion in AI/ML options across industries gets a lot of attention and excitement—but it also generates worry. I predict that human expertise and experience will remain crucial in AML Compliance.
Three reasons why AI in AML will not replace human expertise
The biggest reason: The detection of suspicious activity by a client of the institution can trigger legal proceedings. Show me an AI/ML program that can "raise your right hand and repeat after me…." when called to testify at such a proceeding.
At present, no AI/ML program for AML can take the courtroom oath required by our legal systems. With the high stakes of anti-money laundering and count-terrorist financing enforcement, AI/ML tools cannot supplant human expertise and accountability in a court of law.
The next big reason: In my 20+years in AML and AML Systems, I have never seen two institutions with the exact same Compliance Program. Every single Compliance shop–with assistance from Audit and Risk Management personnel–creates its own Risk-based Approach across its environment.
Within these unique Compliance programs, AML professionals establish controls to mitigate the risk of illicit behavior. Some of these controls require highly trained AML/Sanctions Analysts who understand their institution's client base. These high-stakes decisions can start the legal process. These often-fraught decisions are unique to every financial institution, and they require human expertise and accountability.
The last big reason: Most of the AI/ML world still does not understand GRC, nor do the cookie-jar consultants the AI/ML industry hires to teach their AI/ML algorithms. That's a scary prospect. Financial institutions should be wary of the black-box AI/ML tools trained by data and people entirely opaque to them.
The upsides of AI in AML Compliance
AI/ML programs will most certainly help in the fight against financial crimes. These tools will find more suspicious activity. In fact, they might identify twice as much suspicious activity because they will not be limited to a specific set of behaviors to monitor. Additionally, AI/ML will find evolving suspicious activity earlier. Those are big selling points. But no one in their right mind would allow any computer system to make the final call on whether or not to file a Suspicious Activity Report. Why not?
AI/ML in AML will also revolutionize Risk Management. At their best, AI/ML tools are the kings of data. AI/ML will finetune each institution's risk. So here again, the more exacting the detection, the more substantial the mitigation decisions required of human analysts.
The work of those human analysts will get more and more complex. Think for a moment about how Governance is Audit, Audit is Governance. AI/ML in AML will establish and implement automated Key Risk Indicators across the enterprise. Auditors will know all. Their AI/ML will flag evolving risks at their earliest stages. And that will require decision-making in an entirely new context with very high stakes for institutions, their customers, and their GRC professionals.
AI in AML might mean more work for humans, not less
Financial institutions and their AML Compliance teams saw waves of new technology in the 1990s and 2000s. That transformation of the work didn't displace waves of humans. Rather, AML and GRC professionals needed to learn new skills and take on new responsibilities. That may be the biggest impact on GRC professionals in the near term with AI in AML—more learning and more work. A common element of workplace culture is to be asked to do more. And "more" is what AI/ML does very well.
So, what are we to do? Take our Risk-based Approach and go home? Not likely. AI/ML in AML is the greatest tool ever created to detect suspicious activity. Governance, Risk, and Compliance teams will leverage these advancements. Bottom line: It's not a great time to be a perpetrator of financial crime.
---