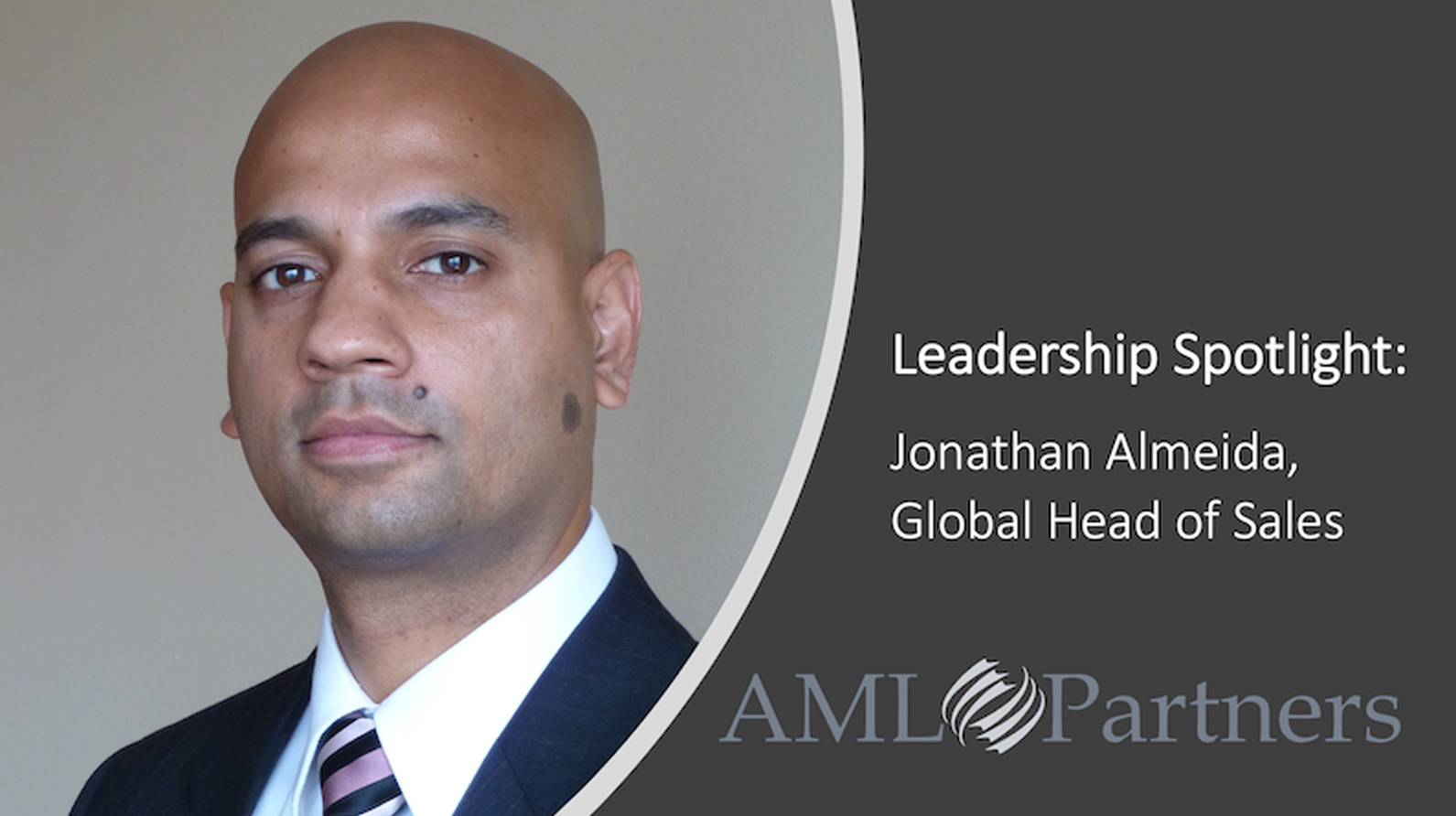 Jonathan Almeida strives to help clients get exactly what they need in AML Compliance solutions, GRC
Jonathan Almeida, an AML Partners co-founder and global head of sales, has been implementing AML Compliance and financial-sector technology solutions worldwide for nearly two decades, and he has extensive experience in various platforms and IT imperatives in financial-services. Jonathan also specializes in AML Systems implementation and integration, and he provides a bridge between operational and technical staffs in organizations seeking to further integrate technology solutions for AML Compliance, GRC, and Digital Transformation in AML Compliance and beyond. In this Leadership Spotlight, Jonathan shares a few thoughts about AML technology, AML Partners, and why the work matters.
What areas of your work in AML Compliance and GRC are you most proud of?
I'm proud of how we at AML Partners use Digital Transformation as the impetus while deploying the necessary controls in a system to help an institution comply with the many aspects of AML Compliance and GRC. Focusing on just Client Lifecyle Management (CLM), we see firsthand the outcome of a client leveraging RegTechONE. Our clients streamline and transform their entire process–from CRM and the tracking of Leads/Opportunities, to KYC On-Boarding, to Risk Assessment, to Credit Review, and finally to Off-Boarding.
I worked at a Foreign Bank Branch in Miami in the mid '90s and later at an AML Software company prior to starting AML Partners in 2005 with Frank Cummings, our CEO. I saw firsthand the challenges Financial Institutions faced in working with point solutions that only addressed specific regulations. The result of that approach is that institutions need to purchase many point solutions that must be integrated and managed, coupled with manual procedures and processes to fill in any gaps.
Our goal at AML Partners is provide the opposite–AML/GRC technology that is endlessly flexible and fully comprehensive. With our solutions, our clients decide exactly what they want and need while still getting all the internal controls necessary as defined in their AML Policy Procedure and Process.
What industry trends are most striking? What is the future of Regtech for AML Compliance and GRC?
I see a merge of point solutions into a single platform and with that comes the benefit of a central data reposit to help drive controls and processes. APIs play important roles to fill in gaps like the verification of a driver's license, or Docusign integration or sourcing data for Global Sanctions + PEP + Media screening or performing Google Searches or SAR/CAR/CTR auto submissions, etc.
What are the most rewarding elements of working with clients at AML Partners?
Most rewarding to me is when a client reaches out upon completing an examination by the OCC or NYDFS or FDIC or internal/external audit, etc., and they tell us they received no MRIAs / MRAs. Invariably, there are always recommended areas of improvement, which we expect from every examination. But to know the pressure that RegTechONE helped lift is testimony to me that we got things right during implementation and that the internal controls configured in RegTechONE aligned with those defined by the Chief Compliance / BSA / Sanctions Officer.
How can clients and potential clients best communicate their needs and get more of what they want from their RegTech?
One piece of advice for any institution about to deploy new technology is that they give their important team members time to think of optimal processes while not being bogged down with BAU (business as usual) day to day work. This time to think will allow for a better documented 'Business Requirement' that any vendor would appreciate. Also, it will help weed out vendors who claim that the functionality exists versus those who need to build it, which drives up costs to the institution.
---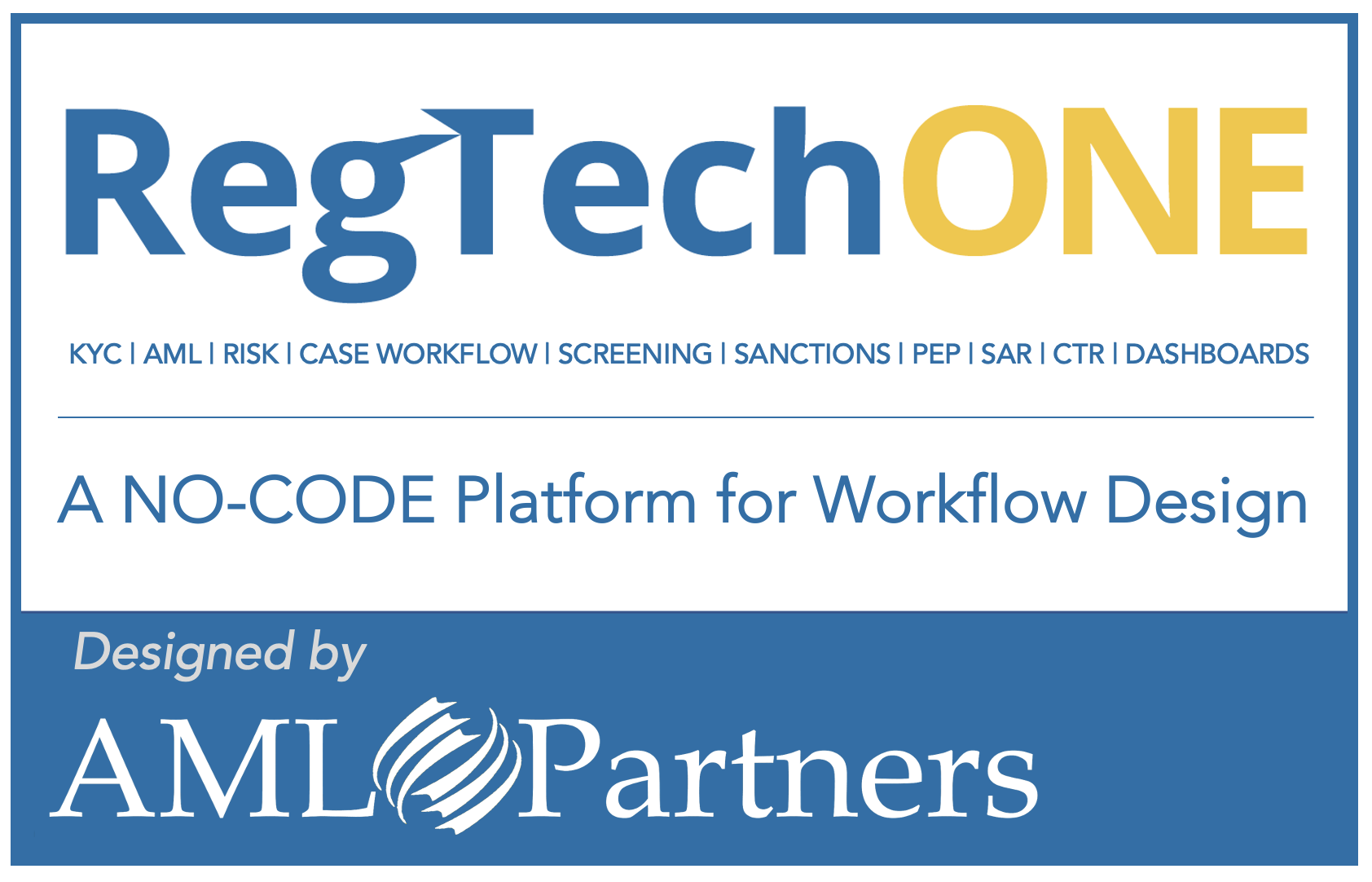 AML Partners, a RegTech 100 Firm, designs GRC and AML Compliance software solutions that transform the work of Governance, Risk, and Compliance. With AML Partners' platform technology for AML Compliance and RegTech, AML and GRC software solutions are easier, faster, and so much more effective and efficient. With extraordinary configurability and built for API extensibility and Business Intelligence, the RegTechONE platform powers a range of end-to-end AML/KYC tools but also Dynamic Case Management, vendor management and risk, cyber risk workflows, regulatory workflows, and so much more. RegTechONE: For your institution's Network of Applications and Ecosystem of Permissioned Data. Contact us today for more information and to explore options for a Proof of Concept demonstration.