'SURETY Eco' a top AML software solution to fight financial crimes
AML Partners, a leading provider of innovative AML software solutions and risk-enabled Business Process Management tools, last week won two 'best of' awards at the Compliance Register Platinum Awards 2016 in London.
In a category determined by industry voting, AML Partners received the top award for "Most Effective Financial Crime Solutions Provider." And in a category voted on by members of the Compliance Register's Academy of Compliance Excellence, AML Partners achieved "Best Solutions Provider—Financial Crime & Sanctions." The Compliance Register Platinum Awards, organized by Compliance Register of London, seek to recognize and reward "exemplary service to Compliance and Regulation."
SURETY is AML Partners' award-winning AML/financial-crime solution, and it's in use by financial institutions around the globe. Anzul Abubakar, who works in AML/OFAC and Regulatory Risk Management for the New York branch of an international bank, has seen SURETY in action, and he shared his congratulations with the firm.
"I think SURETY deserves this award and wish you and your team continued success in the AML field," Abubakar said. "Software like SURETY helps to fight financial crime and is very much needed in today's complex situation that is filled with sophisticated corruption."
CEO Frank Cummings and COO Jonathan Almeida very much value that kind of reaction from professionals in the field. "Meeting and exceeding institutions' needs are what drive our work and our innovations in the field of financial crime and AML software solutions," Cummings said. "We are honored to be recognized for our achievements as a solutions provider in AML Compliance and the prevention of financial crimes. Our solutions mindset drives our work every day, and we focus so much of our effort and innovation on improving our customers' ability to achieve effective and efficient AML Compliance and prevent financial crimes."
AML Partners' COO Jonathan Almeida attended the awards gala and accepted on behalf of AML Partners.
"It was an excellent evening, and we very much appreciate the recognition from our customers and colleagues in the field," Almeida said. "We at AML Partners challenge ourselves every day to think ahead of the curve so that customers using our AML software solutions may leverage technology to stay a step ahead of criminals sneaking into the financial system. We take a lot of pride in this work and in our solutions, and it's an honor to be recognized for that work."
AML Partners is headquartered in Concord, New Hampshire, and has U.S. locations in New York and Miami. International locations include APAC, Canada, the Caribbean, Europe/EMEA, and the United Kingdom. Pictured below are Jonathan Almeida and Bengt Bjorkberg of AML Partners.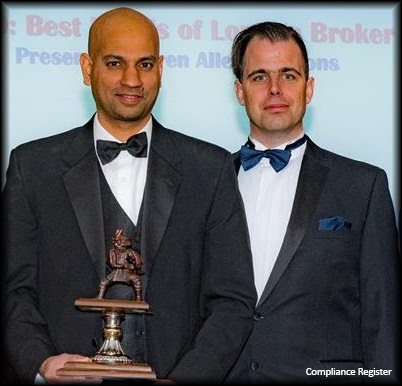 ________________
'SURETY Eco'–Award-winning AML software solution for financial crimes
SURETY Eco is the flagship AML solution of AML Partners. An end-to-end AML software solution, SURETY Eco provides extraordinary agility for full configuration and integration across each institution's unique risk-based approach. SURETY Eco may be used with default AML workflows or you may use it as a blank slate to configure workflows specific to your institution's needs. And you may configure everything from Question Collection to email notifications to sanction-screening sensitivity to flagged behaviors in transaction monitoring to Dynamic Case Management–and everything in between. With KYC/CDD, Sanctions Screening, and Transaction Monitoring with an optional 314a module, SURETY Eco is your own expert financial-crime-fighting brain transformed into an AML software solution. Call us today to learn how SURETY Eco is your best choice for the most effective and most efficient AML software solution available.