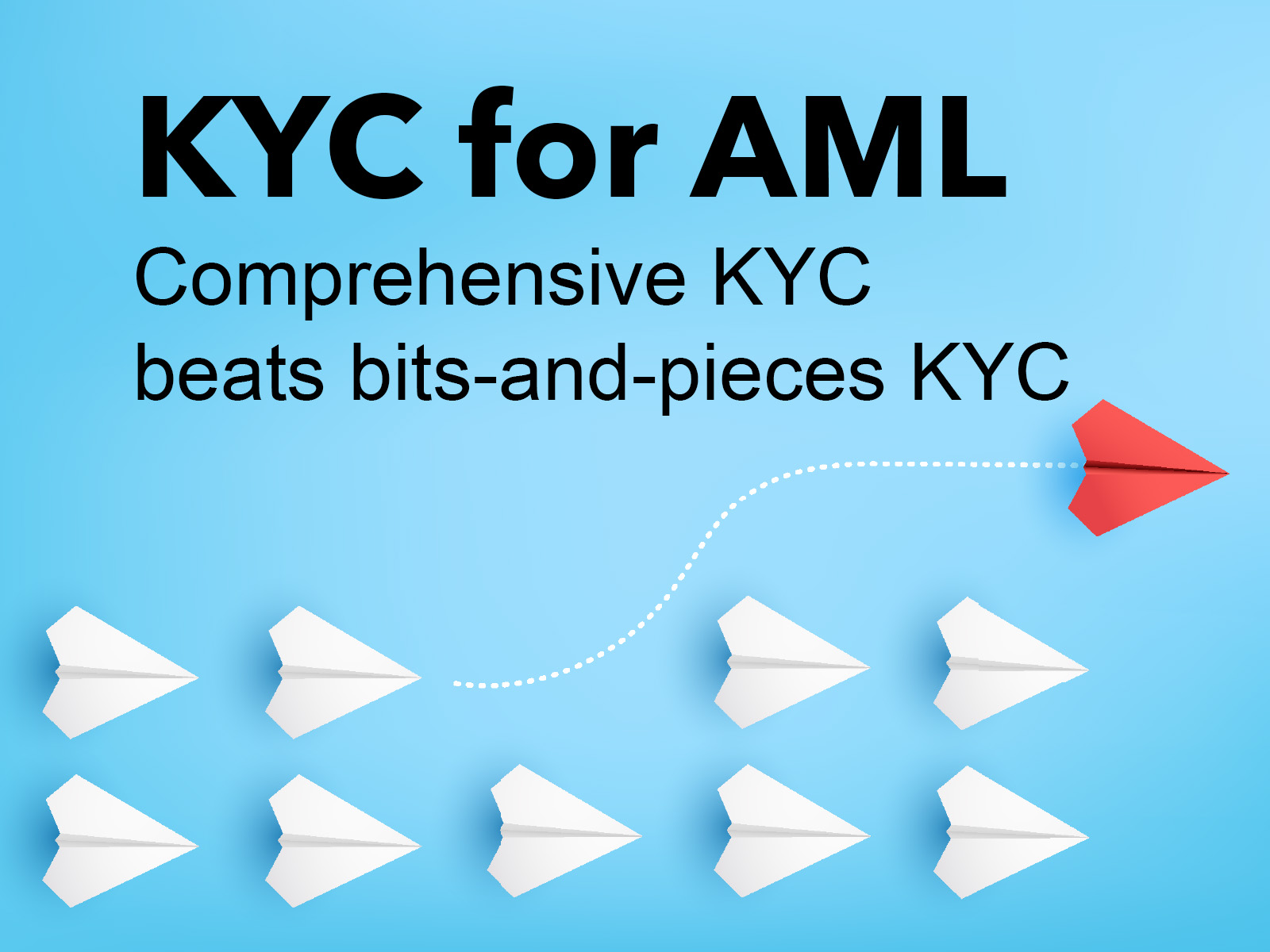 KYC Software for AML: Big differentiator is comprehensive KYC vs. bits and pieces
Know Your Customer—or Customer Due Diligence—in AML Compliance provides the foundation for anti-money laundering analysis. And KYC also provides a crucial keystone to counter the financing of terror. But KYC solutions vary tremendously. When weighing your options, seek comprehensive and complete KYC software versus bits and pieces KYC.
At AML Partners, we define actual KYC solutions as those that deliver comprehensive and complete Know Your Customer. Many others in the field limit their KYC functionality to bits and pieces of KYC. The bits-and-pieces approach leaves financial institutions vulnerable to gaps in their risk management. Bits-and-pieces KYC also creates endless work to find additional methods to fill in those risky intelligence gaps.
In sharp contrast, comprehensive and complete KYC software solutions include every element of Know Your Customer and Customer Due Diligence. And comprehensive KYC solutions maximize automation at every stage of the process.
What should a comprehensive CDD KYC solution include?
Comprehensive CDD KYC software should include the following elements:
No-code custom workflows that maximize alignment to an institution's precise needs
Built-in dynamic and multidimensional Risk modeling configurable by the institution
Automatic Risk Ratings delivered by built-in Risk-modeling engine
No-code configurable question-management system
Integrated and automated screening of all names and entities in the KYC collection—watchlists, adverse media, and Politically Exposed Persons (PEPs)
Integrated Principles' Registry for principles and related parties
Integrated data feeds for Ultimate Beneficial Owners
Digital document collection and storage
Expiry tracking and automated expiry notifications that help maintain current KYC records
Automated data interfaces with auto-fills of data fields
API integrations of tools favored by the institution
AML case management fully integrated with the KYC software
Integrated control center for Audit and examiners
What should your comprehensive CDD KYC solution be able to do?
Digital Document Submission: Customers submit their identity and address documents digitally. This might include scanned copies of passports, driver's licenses, utility bills, and other relevant documents.
Biometric Verification: Biometric data like fingerprints, facial recognition, or voice recognition can be used to verify a customer's identity. This adds an extra layer of security and helps prevent impersonation. And other biometric markers are in development across the field.
Online Application and Form Filling: Prospective customers fill out application forms and provide necessary information online. This reduces the need for physical paperwork and manual data entry by relationship managers or others.
Optical Character Recognition (OCR) for government IDs: With OCR, the KYC solution automatically ingests text from scanned government IDs submitted for KYC. OCR saves time and increases accuracy.
Real-time Verification: Comprehensive KYC systems can verify customer identities in real-time or near-real-time. This reduces the time required to onboard new customers or complete transactions.
Risk Assessment and Screening: Today's best KYC software can integrate with databases to conduct risk assessments and background checks automatically. This helps ensure that customers are not on any sanctions lists or involved in illegal activities.
Real-time Risk Management: Real-time data-vendor push of updates to your client data, which results in automated screening and Risk analysis processes. Internal controls will dictate who gets notified and when. These capabilities can deliver Perpetual KYC for near-real time AML Risk Management.
Cross-Checking and Validation: Automated KYC systems can cross-check the accuracy of submitted information. Automated KYC cross-checks against various databases, government records, and other reliable sources.
Secure Data Storage: Financial institutions can safeguard customer data and documents by using encryption and other security measures. This helps prevent unauthorized access and data breaches.
Compliance with Regulations: Today's KYC software solutions should align with relevant regulatory requirements, such as anti-money laundering (AML) and counter-terrorism financing (CTF) regulations. Further, institutions can leverage no-code configurability to tailor KYC collections to the regulatory requirements of their various geolocations.
Flexibility via No-code Configurability: The best KYC software solutions will offer no-code configuration of workflows by end-users. This flexibility allows perfect alignment with divergent books of business. And end users can quickly configure changes to comply with new regulations and requirements anywhere in the world. Finally, no-code configurability eliminates the need for costly and clunky hard-coding projects to deal with each emerging need.
Audit Trail and Reporting: Institutions seek KYC solutions that maintain comprehensive audit trails of all verification activities. This provides a transparent record of the verification process for regulatory and internal purposes.
Remote Onboarding: Customers can complete the KYC process remotely using user-friendly interfaces. This eliminates the need for physical presence and allows institutions to maximize efficiency in their KYC collections.
Scalability: KYC processes can be scaled easily to accommodate a large number of customers, making it suitable for financial institutions both large and small. And institutions can tailor its use to their specific needs.
Reduced Costs and Time Savings: By eliminating manual processes and reducing paperwork, KYC can deliver cost savings, better accuracy, and improved customer experiences.
Integration with Existing Systems: Peak KYC solutions integrate seamlessly with existing AML software solutions and CRM solutions.
Why comprehensive CDD KYC software is so much better than bits-and-pieces KYC
If your institution's KYC software solution cannot achieve the range of elements listed above, you might be dealing with bits-and-pieces KYC software. For the best possible KYC solution to fight financial crime today, seek out single-solution fully integrated KYC software. A comprehensive and complete CDD KYC solution will include all external checks and balances and internal controls. It will deliver KYC–from beginning to end in one workflow–controlled by you, the institution's end user. (To learn about eKYC and eKYC Golden Record, click here for Part 2 of this series on Know Your Customer software solutions.)