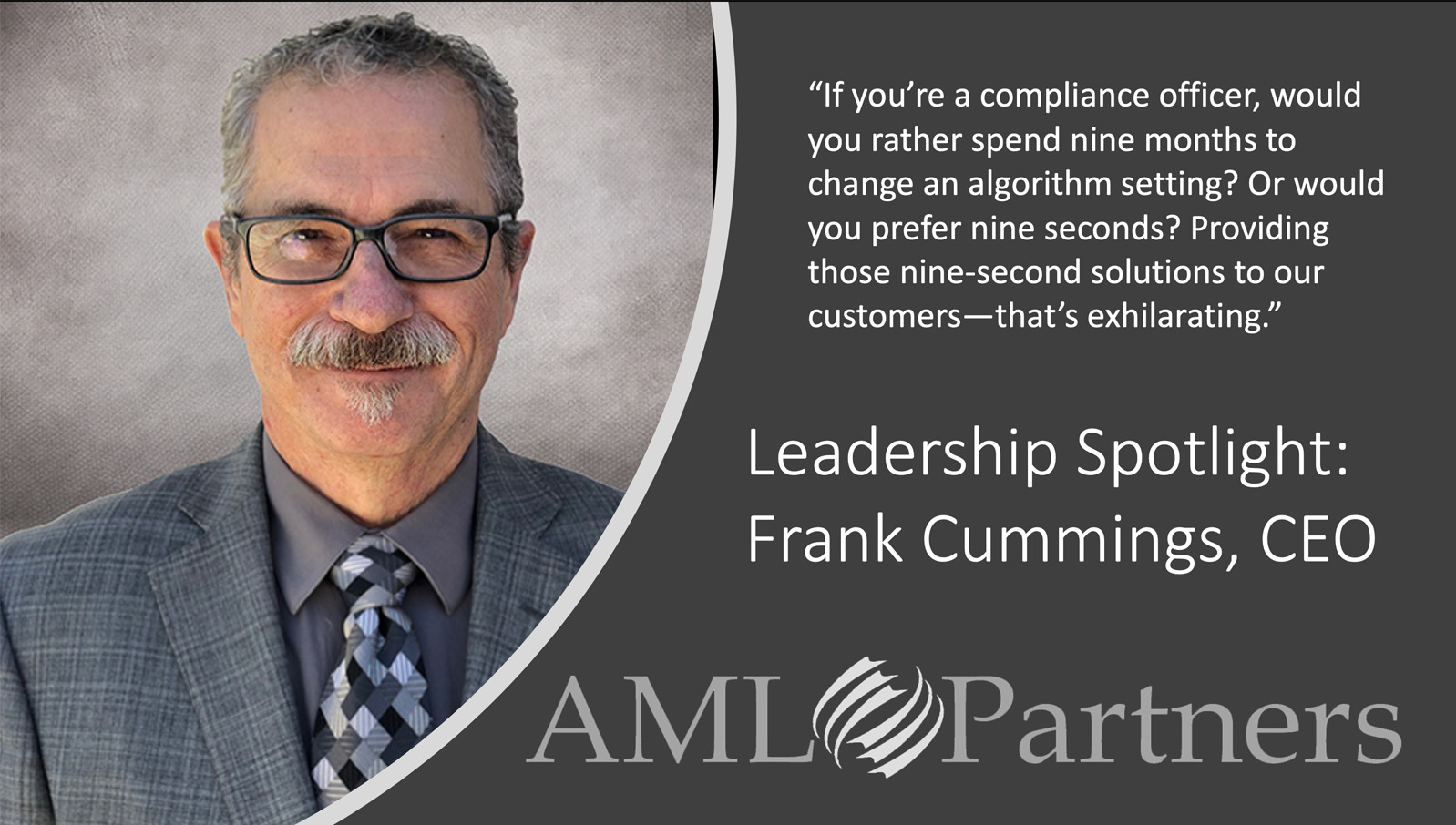 Frank Cummings reflects on drive to innovate and how peak RegTech helps bottom line of financial institutions
Frank Cummings has seen trends and buzzwords come and go–both in tech and in AML Compliance, and he is quick to understand what truly matters in his industry. With over 20 years of experience in BSA/AML and PATRIOT Act consulting, and many more years developing software, leading tech initiatives, and excelling in military, government, & Fortune 500 technology systems, Frank excels at seeing the big picture and how systems can integrate for best effect.
In today's Leadership Spotlight, Frank shares some of his AML and RegTech inspirations, and he explains why institutions that use his GRC and AML Compliance platform gain a competitive advantage.
What was the catalyst for RegTechONE, your software platform for AML Compliance solutions and GRC?
Frank Cummings: The origins of RegTechONE innovations today actually go back more than 20 years. After the terror attacks of 9/11, there was intense pressure to achieve better AML Compliance pretty much overnight.
AML Partners co-founder Jonathan Almeida and I worked for five years on-site at U.S. branches of foreign banks with technology that was shoe-horned into action for AML/CTF. We all worked to stitch together multiple systems that weren't meant to operate together. These legacy systems tended to be costly, not customizable, and not very effective.
Working daily with those problems motivated us to create the opposite in our RegTech software. We wanted our Compliance colleagues to have a comprehensive No-code system they could configure exactly as needed–with whatever tools and functionality met their needs. RegTechONE–no code and API extensible–is the realization of our vision to put front-end experts in control of amazing Compliance tools.
Why did you choose AML Compliance solutions and GRC for your specialization and business focus?
Frank: Well, I love running a business, and the brain puzzles of improving regulatory technology provide constant challenge. In Regulatory Compliance, the problem is never really solved; it's only mitigated for risk. That reality of Compliance Officers mitigating ever-changing risk drives the functionality in our Compliance software. In Compliance, change is not something that happens once; it happens forever.
If you're a compliance officer, would you rather spend nine months to change an algorithm setting? Or would you prefer nine seconds? Providing those nine-second solutions to our customers—that's exhilarating. Faster, cheaper, better–no matter what you're doing in business, that is the challenge.
How do your clients benefit from AML Partners' RegTech? What advantages do they gain?
Frank: Financial institutions use the RegTechONE platform as an onboarding product, as a wide-ranging screening product, and for transaction and behavior monitoring across their enterprises. And they love our product for our robust dynamic case-management system. Our customers—banks and other financial institutions across industries—leverage our No-Code workflows to do whatever it is they want and need to do. That is a major differentiator—our customers use our software solutions in whatever way THEY want, without hard-coded limitations.
For example, our customers add operational processes into their workflows on RegTechONE. Information is shared, acted on, and approved seamlessly–while maintaining full governance, full compliance, and mitigating any risk they've identified. These fully integrated work processes 'cause' automated governance and compliance–without the need for additional workflows. KRIs are set and monitored. KPIs are evaluated and upgraded. All seamlessly, all no-code. We designed RegTechONE as a fully modular system: Plugging in additional systems into your workflows takes days or maybe weeks–not months or years. These features together provide major competitive advantages.