Portugal scrutinized for AML Compliance, anti-bribery enforcement
Oil booms and billionaires go hand in hand, and that is true for Angola, one of Africa's poorest countries with some of the world's wealthiest leaders due to vast oil reserves. A fascinating New York Times feature last month dived into the strained relationship between Angola and its former colonizer Portugal. The focus of the article was the vast sums of Angolan money—much of it allegedly laundered—flowing into Portugal.
The Times report cited research showing that from 2002 to 2015, Angolan individuals and companies transferred approximately $189 billion out of the country through various murky investments and shell companies. Simultaneously more than half of the nation's workers survive on about $3 per day, according to the United Nations Human Development Report.
Money laundering accusations have dogged many of the massive investments in Portuguese properties and businesses by Angolan nationals. And Portugal has been frequently criticized for lax AML enforcement and weak anti-corruption measures.
The relationship became especially complex over the last two decades as Angolan oil wealth surged and the Portuguese economy struggled. The Times reports that for many in Portugal, the infusion of massive amounts of investment from wealthy Angolans helped prop up the economy during a very rough patch.
But others around Europe and the world have pressed Portugal to step up its standards and enforcement related to AML Compliance requirements and anti-bribery measures. Groups and individuals have criticized the country for allowing itself to be a money Laundromat for vast sums of wealth allegedly stolen in a de facto sense from the African country.
The OECD has been critical of Portugal in its various monitoring reports. And when Portugal has made efforts to investigate alleged corruption related to Angolan investments, powerful Angolans have threatened to move their money elsewhere, effectively squashing much of the scrutiny by the cautious Portuguese officials, according to the Times.
Some Portuguese leaders have pushed back against the criticism, noting that Portugal cannot change the fact that business leaders and political leaders in a country like Angola are often one and the same. Moreover, some argue that a bank's only concern is whether a customer has a valid business from which the funds to be invested could reasonably have been generated.
A former Portuguese bank executive advanced that argument. He used as an example Isabel dos Santos, the multibillionaire daughter of Angola's president. She is famous in Portugal for her wealth and investments there. By virtue of being the Angolan president's daughter, she has amassed vast wealth by being appointed to ownership and leadership positions in the country's oil industry, its cell phone industry, and more. The bank executive noted that his job was to verify those businesses, not how she gained control of those businesses or their bookkeeping in the first place.
Some Portuguese officials noted too in the report that if they are expected to increase their scrutiny of Angolan money, so too should other nations be expected to similarly scrutinize investments of new wealth from China and similar nations where fortunes have amassed almost overnight and individuals are seeking to move vast sums of questionable wealth out of their countries.
________________________
AML Software Solutions for Peak Effectiveness and Efficiency
The stakes of AML Compliance for institutions and individuals are higher than ever. Contact us today to explore how our end-to-end AML Ecosystem SURETY Eco and the SURETY modules can transform the efficiency and effectiveness of your unique AML Compliance efforts. SURETY Eco includes fully integrated modules for CDD/KYC on-boarding, behavior/transaction monitoring, and sanctions screening. And AML Partners simplifies your end-to-end fully integrated AML Compliance efforts even further with an optional Subpoena Search module for FinCEN 314a and similar subpoena searches. Contact us today to learn more or schedule a demo.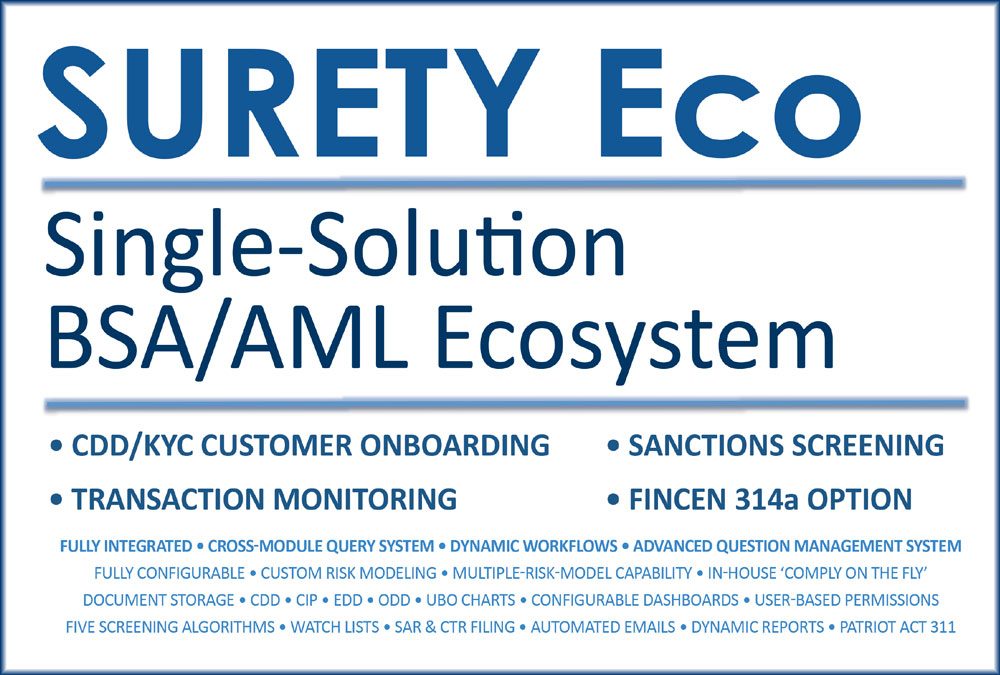 SaveSave
SaveSave
SaveSave
SaveSave
SaveSave