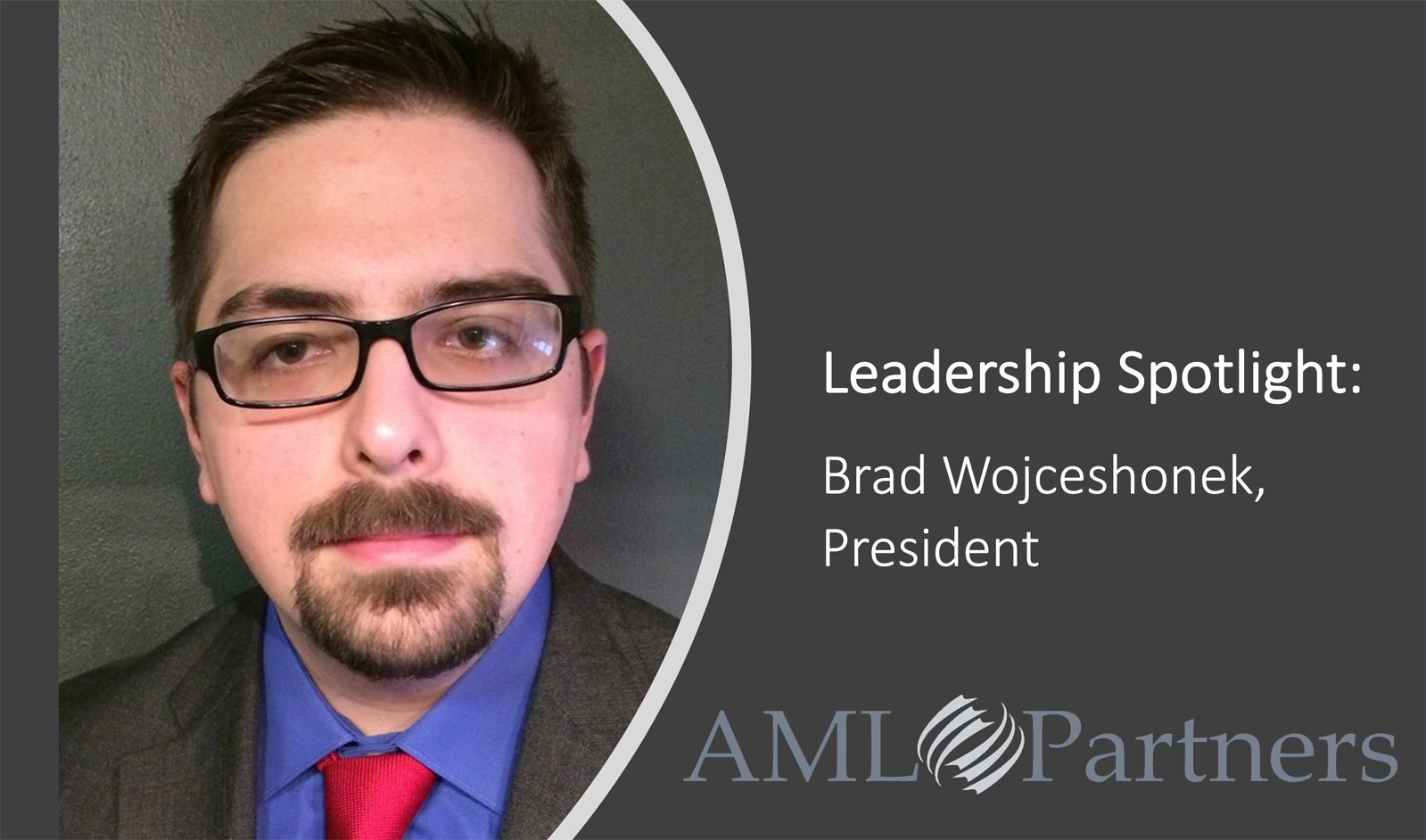 Company president strives to support team members as they innovate in AML Compliance solutions
Today's Leadership Spotlight features company president Brad Wojceshonek. A 13-year veteran in the software development field, Brad joined AML Partners as a junior programmer. Brad's fast-growing expertise, insight, and collaboration skills helped him rise through leadership roles at AML Partners. Prior to his current role, Brad worked extensively on the design and development of the firm's various software products for Governance and Regulatory Compliance.
Designing for flexibility and creativity
Question: What do you value most in your work with your AML Partners colleagues and/or in your work with customers who are using AML Partners' software solutions?
I love when my colleagues or customers find a novel use for our software we had never considered. Our applications are really just collections of tools and building blocks that our implementors use to meet the needs of our diverse clientele, which operate around the world and in various industries. What works for a bank in New York City in 2020 might not even meet their business requirements in 2021, let alone the requirements of an insurance company in the U.K. That's why we've designed our software to be completely dynamic, to make it as painless as possible to make the changes that need to be made when regulations change or when Head Office rolls out a new procedure that needs to be followed.
An unexpected consequence of that flexibility is that we are constantly learning new things our applications can be used for. Our Vendor Management product came about because a customer of ours saw the configurability of our CDD/KYC workflows and thought, you know, this does everything we need to onboard, risk rate, and maintain our vendors. A couple of years ago we realized we could use it for our own purposes. We are currently using an installation of RegTechONE internally to handle everything from employee time management to support tickets to customer-relationship management.
Supporting agency and collaboration
Question: What kind of work culture do you value as a leader and how do you try to nurture that kind of culture with colleagues in your current position at AML Partners?
Management is here to support the team, not to control their every move. We have certain guide rails, of course – best practices and procedures that need to be followed to ensure consistency and quality in our deliverables. But when, for example, a developer really takes ownership of a project and gets excited about an idea they have, that's when they are truly engaged and produce their best work.
All of our employees have direct lines of communication to the top levels of the company and are encouraged to speak their minds. Different departments interact on a daily basis, and these functional crossroads are where innovation most often happens, as people share new and different perspectives on an issue.
Recognizing the power of passion
Question: What advice would you give to young people at the start of their careers in technology and software development and design?
Pursue your own passion projects outside of work, because that's where you can really stretch what you're capable of and it's where the most learning happens. Our best developers are all working on something interesting on the side. As they explore new technologies and run into road blocks and figure out how to get around them, they are picking up valuable skills they will inevitably bring to the office. One of the first questions I ask in an interview with a developer is, "What's the coolest thing you've created that wasn't for school or your job?" If they get excited about showing me their app or their website or their game, there's a good chance they will be a quality employee for us.
Being well-rounded adds value
Question: What traits helped you start as a junior programmer and rise to a top leadership position in AML Partners?
I got my bachelor's in English Literature with minors in Philosophy, Classics, and Film. I did take courses in computer science and programming as well, and later I got a certificate in application development, but my undergrad was mostly writing essays or poetry. When I switched gears and decided to pursue coding as a career, I figured all I'd gotten out of my four years at the University of New Hampshire were a lot of good memories and 20 years of debt.
I learned very quickly, however, that the skills I'd picked up were extremely valuable, even in the tech industry. First, there is much more writing than I would have expected. Documentation, specifications, contracts – all require proper grammar and clarity. Really, being able to put together a coherent and persuasive essay isn't so different from writing an important email to a client. The countless creative-writing workshops taught me how to collaborate with people, how to accept criticism graciously and apply it to my own work, and how to give advice in a way that doesn't come off as patronizing or belittling. Finally, being able to analyze a complicated work of literature, extract the important pieces for my argument, and convey that succinctly to various audiences has a lot of similarities to the kind of critical thinking and communication I have to do on a daily basis.
---

RegTechONE platform software for AML and KYC supports no-code configuration, exceptional results
With AML Partners' platform technology for RegTech, updating and upgrading your AML and eGRC software solutions is easier, faster, and much less expensive. Contact us today to explore how platform technology and our end-to-end AML Ecosystem powered by the RegTechONE platform–can transform the efficiency and effectiveness of your unique AML Compliance efforts. RegTechONE software for AML Compliance includes fully integrated modules for CDD KYC software for on-boarding, behavior and transaction monitoring software, and sanctions screening software for comprehensive AML screening. And AML Partners simplifies your end-to-end fully integrated AML Compliance efforts even further with an optional Subpoena Search module for FinCEN 314a and similar subpoena searches. Contact us today to learn about our proof-of-concept option or schedule a demo of RegTechONE, the AML software ecosystem. With extraordinary configurability and built for API extensibility, the RegTechONE AML software platformpowers not only an end-to-end AML software solution but also vendor management, AML client lifecycle management, eKYC Golden Records, Perpetual KYC, and so much more.