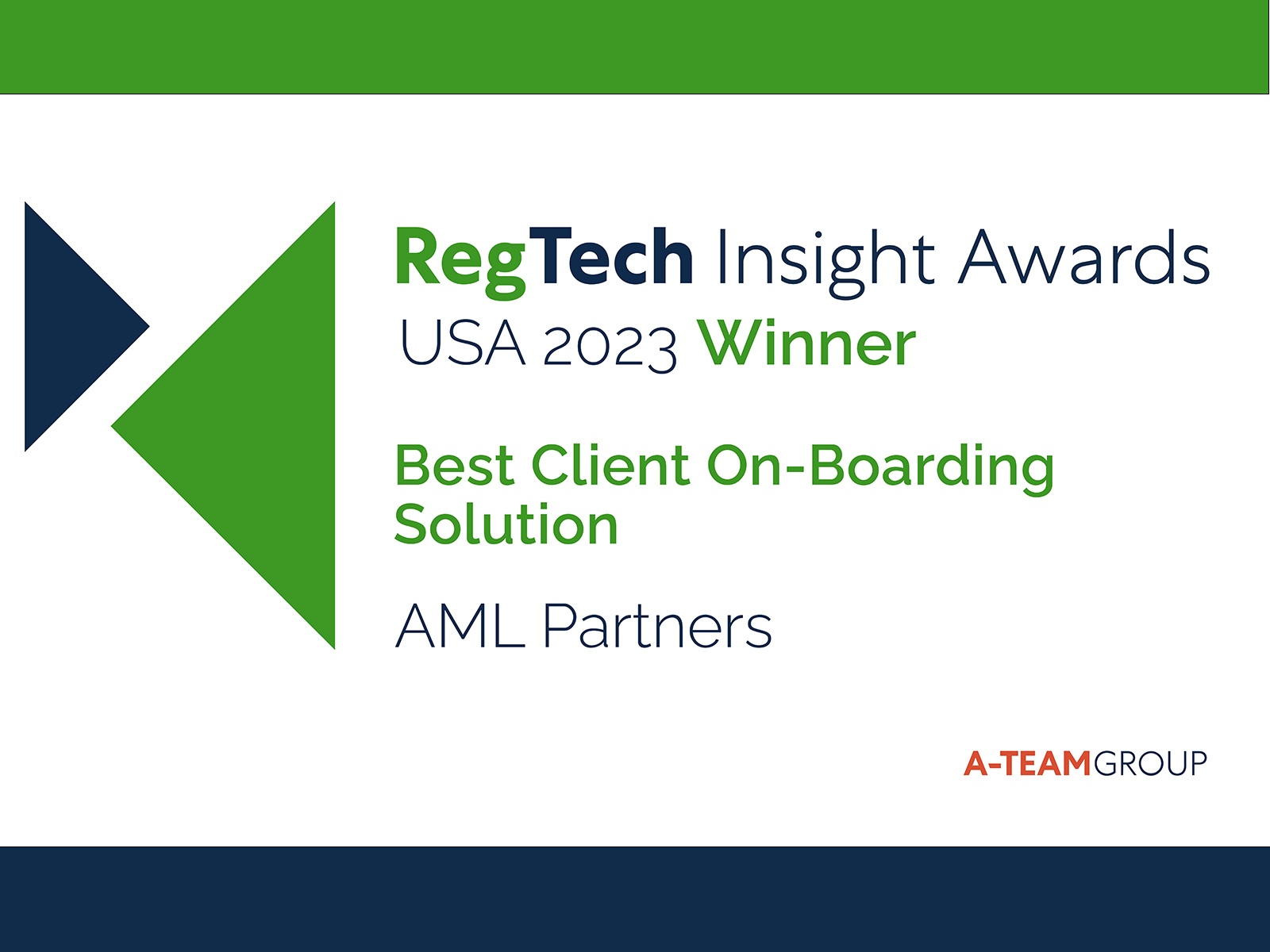 AML platform technology delivers exceptional CDD KYC onboarding experience, Risk management
AML Partners' RegTechONE won 'Best Client On-Boarding Solution' at the RegTech Insight awards last night in New York.
RegTechONE, a GRC and AML Compliance platform, features comprehensive CDD KYC onboarding software. And because of the innovative regtech-platform architecture, its KYC solution integrates and automates a range of KYC priorities.
AML Partners CEO Frank Cummings said the company is especially proud of this recognition for its CDD KYC software
"We take great pride in creating KYC CDD onboarding solutions," he said. "We were inspired to transform KYC onboarding after working for years with institutions wrestling with paper-based KYC collections. The KYC solution on RegTechONE has everything to onboard successfully and mitigate Risk during onboarding. It's peak innovation in KYC CDD."

RegTechONE software for AML Compliance includes fully integrated modules for CDD KYC software for on-boarding, behavior and transaction monitoring software, and sanctions screening software for comprehensive AML screening.
Cummings said that one of the things clients love about KYC onboarding on RegTechONE is the ability to configure without any coding. "We worked to achieve a truly no-code solution for KYC onboarding," he said. "Chief Compliance Officers should be in full control of their solutions, and they have that in RegTechONE."
No-code configurability and platform integrations mean that AML Compliance professionals can finally comply on the fly–no programming needed.
"With our no-code platform, users can update their institution's KYC solution to meet changing regulations and evolving needs for exceptional Risk Management," Cummings said. "And we built in high-value high-efficiency tools like a registry for principles and related parties."
Learn more about our AML Compliance solutions
Contact us today to learn about our proof-of-concept option or schedule a demo of RegTechONE, the AML software ecosystem. With extraordinary configurability and built for API extensibility, the RegTechONE AML software platform powers not only an end-to-end AML software solution but also vendor management, AML client lifecycle management, eKYC Golden Records, Perpetual KYC, and so much more. With AML Partners' platform technology for RegTech, updating and upgrading your AML and eGRC software solutions is easier, faster, and much less expensive.