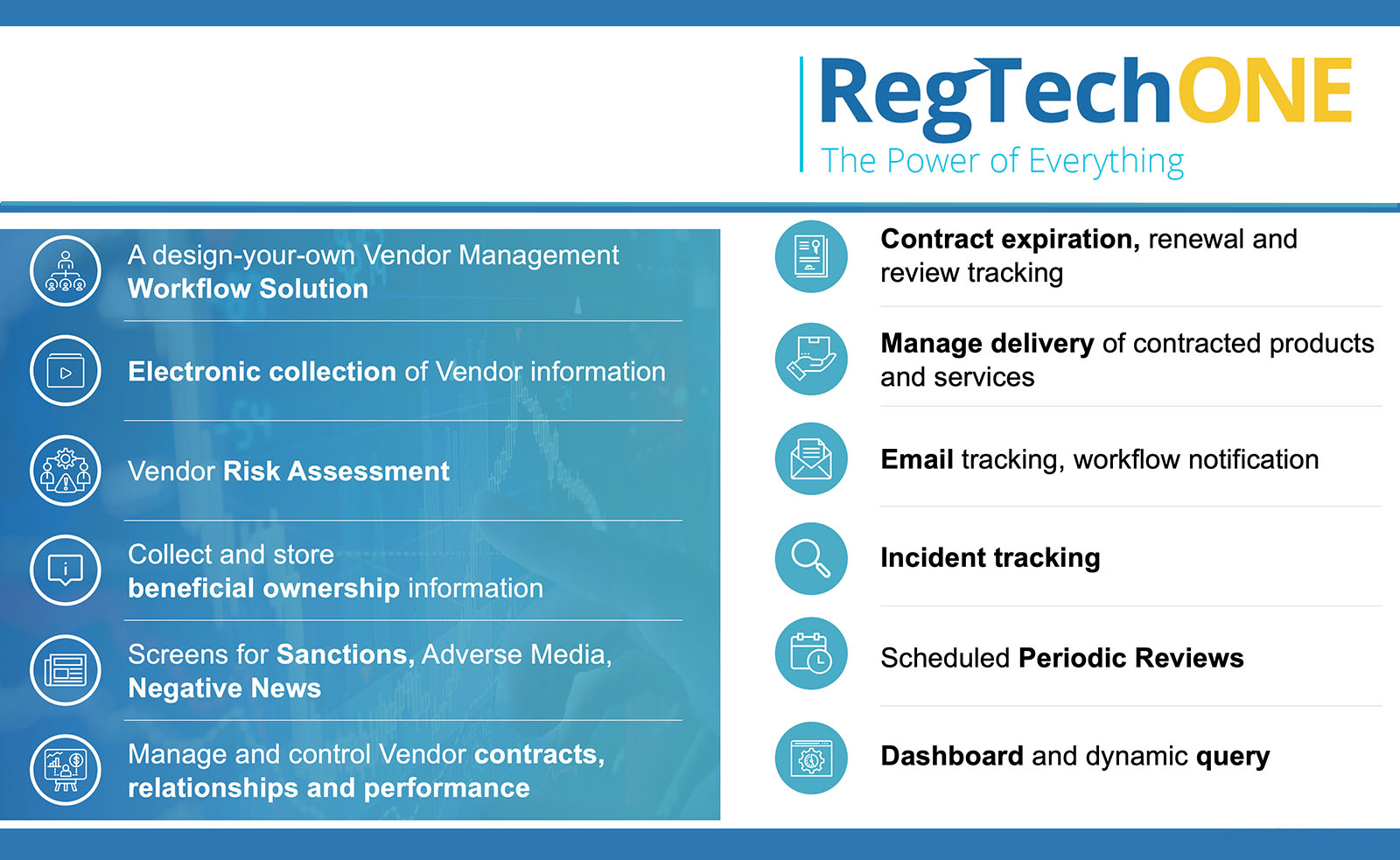 Onboard vendors and manage vendor relationships with no-code workflows, Risk ratings, screenings
AML Partners' RegTechONE platform is a vendor-management powerhouse that accesses all the onboarding and management functionality of the API-driven platform.
By leveraging automated monitoring and tasks, vendor managers design their preferred workflows and let RegTechONE take care of the rest.
Core Workflows
The Vendor Management module includes several default workflows that can be used for vendors or any third-party Risk. These configurable workflows include the following:
Vendors: This is the main workflow. Vendors are onboarded, risk-rated, screened, etc. All other workflows are accessible from this one. This workflow contains contact information, documents (financials, business continuity, insurance, compliance, information security), and due diligence steps. This workflow has a configurable approval process so IT can sign off, then Compliance, then vendor manager, then senior management.
Contracts: This workflow stores all active and inactive contracts. It can send email alerts when a contract is expiring soon.
Periodic Reviews: This workflow alerts the vendor manager when it's time for the yearly review. The workflow prompts them to fill out a form and get approval from management.
Incidents: This workflow tracks any incidents with the vendor and prompts the user with steps to follow to mitigate any potential damage and to notify the people who need to know.
No-code workflow design
Vendor managers use RegTechONE's no-code workflow options to create their ideal question collections, configure screening preferences, contract management, construct Risk models, run Risk ratings, and so on.
With RegTech built specifically for no-code workflows, end-users design a management system specific to their needs and their in-house processes.
Integrated Risk Management tools
We at AML Partners encourage 'Know Your World' due diligence, and vendors are central to that concept. Because of that, Vendor Management on RegTechONE accesses the full range of the platform's Risk Management tools.
This includes screening for sanctions, adverse media, and Politically Exposed Persons. And the screening tools offers choice of multiple algorithms, sensitivity settings, and whitelisting.
And vendor managers configure their question collection, their Risk models, and their automated Risk ratings. Vendor risk assessments can include any elements configured by vendor managers.
The overall Risk model itself is a combination of six sub-models specific to vendor and third-party Risk. Each of these has their own factors that are included in the onboarding and due diligence processes.
Effective, efficient, and comprehensive
Vendor management on RegTechONE prioritizes supporting the work of vendor managers. The range of platform functionality delivers effective, efficient, and comprehensive vendor management central to Know Your World due diligence. Please contact us to learn more about Vendor Management on the RegTechONE platform.
---