California's legal-pot scene shows range of AML stresses
Armored cars, buried cash stashes, physical assaults, down-low bank accounts, and thousands in monthly checking account fees—it's all a part of the jumble of the money side of California's legal weed scene. And it's only going to get more complicated in the next year when the state moves from medical marijuana to legal recreational use.
The LA Times ran a fascinating in-depth feature last week about the extraordinary range of cash handling evident in the marijuana industry in the state. One legal seller describes how he makes frequent small cash deposits to a business account that he opened for a property-management business—a cover for his marijuana dispensary. That is classic money laundering—for a business that is legal in California but still a felony at the federal level where banking regulations reside.
In contrast, another cannabis-industry businessman—a grower who supplies dispensaries—has an up-front account with a credit union, and he uses armored cars both to deliver the marijuana to his retail customers and to deliver their cash payments to his credit union.
The Times report emphasizes these contradictions and the "Wild West" state of banking and cash handling in the burgeoning legal marijuana business. In 2016, the California dispensaries sold about $3.3 billion; that amount is expected to more than double once recreational sales enter the market. That is a ton—or more accurately many tons—of cash moving around the state.
This open knowledge of vast amounts of cash associated with dispensaries has resulted in fear of violent crime and fears about how to handle the cash discretely. A Times story from November of 2013 describes the kidnapping, torture, and sexual mutilation of the owner of a medical-marijuana dispensary in Orange County, California. One of the assailants was a patient of the dispensary and helped organize the kidnapping. The assailants resorted to severing the victim's penis in their effort to find out where he stashed his cash, and they also tortured him with a blowtorch.
These kinds of fears motivate growers and dispensary owners to find banking solutions, but that remains difficult. Under the Obama Administration, the Justice Department signaled that it would focus marijuana enforcement on sales to minors, large-scale trafficking across state lines, and similar. While this wasn't a free pass from the Federal Government, it was a nod of sorts to states' efforts to legalize marijuana. But with the Trump Administration and Jeff Sessions' numerous statements about his personal hard line against marijuana, industry people and financial institutions remain very wary of running afoul of federal enforcement.
Still, there are a number of credit unions and small banks in California who are choosing to take the risk. At a very high cost to the customer.
One credit union described by the Times charges an initial fee of $10,000 to conduct its opening due diligence on the prospective account holder. And then it charges these account holders $5,000 per month for growers, and $7,500 per month for dispensaries. The financial institutions offering these accounts justify these monthly account fees as necessary to pay for the ongoing due diligence and reporting to FinCEN.
Industry business people and their advocates are pushing for more and better options for access to financial services for the marijuana industry. But until the federal government addresses the labeling of marijuana as a Class 1 drug—the highest level of criminal classification—banks and other financial institutions will continue to tread very carefully in the industry.
_____________________________
AML Software Solutions for Peak Effectiveness and Efficiency
Ready to learn more? Contact us today to schedule a demonstration or to explore how SURETY Eco and the SURETY modules can transform the efficiency and effectiveness of your unique AML Compliance efforts. In addition to these robust Dynamic Case Management features, SURETY Eco includes fully integrated modules for CDD/KYC on-boarding, behavioral/transaction monitoring, and sanctions screening. And AML Partners simplifies your end-to-end fully integrated AML Compliance efforts even further with an optional Subpoena Search module for FinCEN 314a and similar subpoena searches.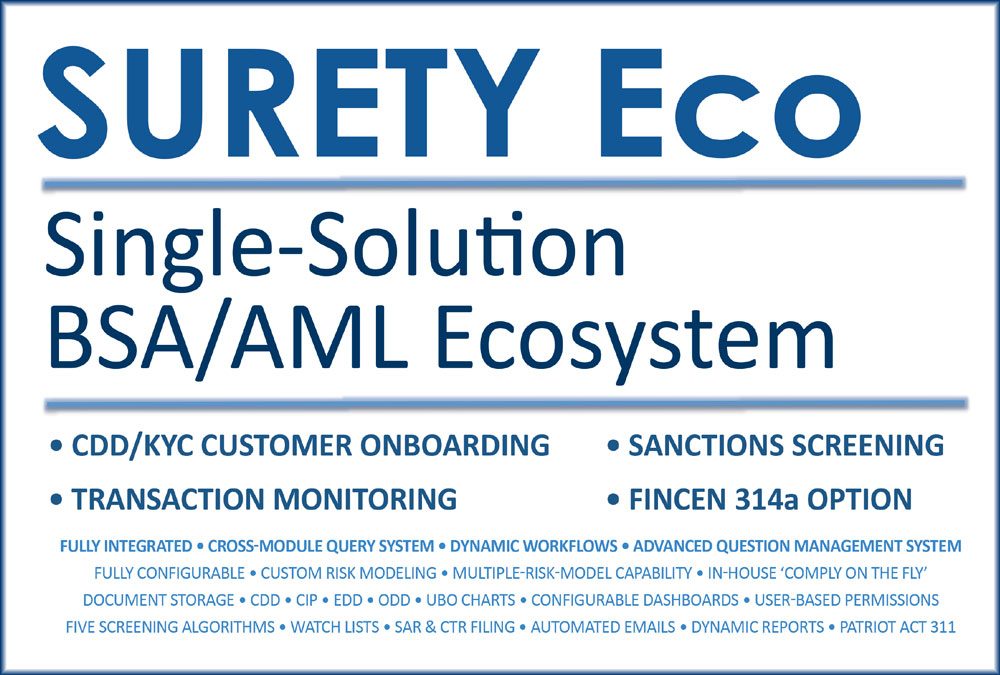 SaveSave