SURETY Sanctions Screening for mortgage lenders' AML Compliance
Money laundering and Sanctions violations in the real-estate market are drawing more and more scrutiny, and mortgage lenders and real-estate brokers are seeking effective and efficient AML software solutions.
SURETY Sanctions Screening is an excellent choice as a stand-alone screening module for mortgage brokers, and AML Partners is currently completing implementations of its screening software for customers in that industry.
Screening against the OFAC list is especially important for mortgage brokers, and SURETY Sanctions Screening can easily be configured to import the OFAC list and then run SDN numbers on a nightly basis against a batch of individual/company names for prospective loans.
Part of the importance of mortgage brokers' screening regimens relative to AML Compliance is that the originators of mortgage loans may choose to sell these loans to other banks, all of whom must track the history of these loans.
One of our mortgage-broker customers also is choosing to take advantage of regular Risk-management screenings of vendors, employees, and Ultimate Beneficial Owners of the mortgaged properties. For this client of AML Partners, SURETY Sanctions Screening provides not only an efficient and effective software solution for Sanctions Screening but also the added benefit of an automated attention to regular Risk management.
To learn more about what SURETY Sanctions Screening or the other SURETY software solutions for AML Compliance can do for your business, contact us today.
__________________________
AML Software Solutions for Peak Effectiveness and Efficiency
The stakes of AML Compliance for institutions and individuals are higher than ever. Contact us today to explore how our end-to-end AML Ecosystem SURETY Eco and the SURETY modules can transform the efficiency and effectiveness of your unique AML Compliance efforts. SURETY Eco includes fully integrated modules for CDD/KYC on-boarding, behavior/transaction monitoring, and sanctions screening. And AML Partners simplifies your end-to-end fully integrated AML Compliance efforts even further with an optional Subpoena Search module for FinCEN 314a and similar subpoena searches. Contact us today to learn more or schedule a demo.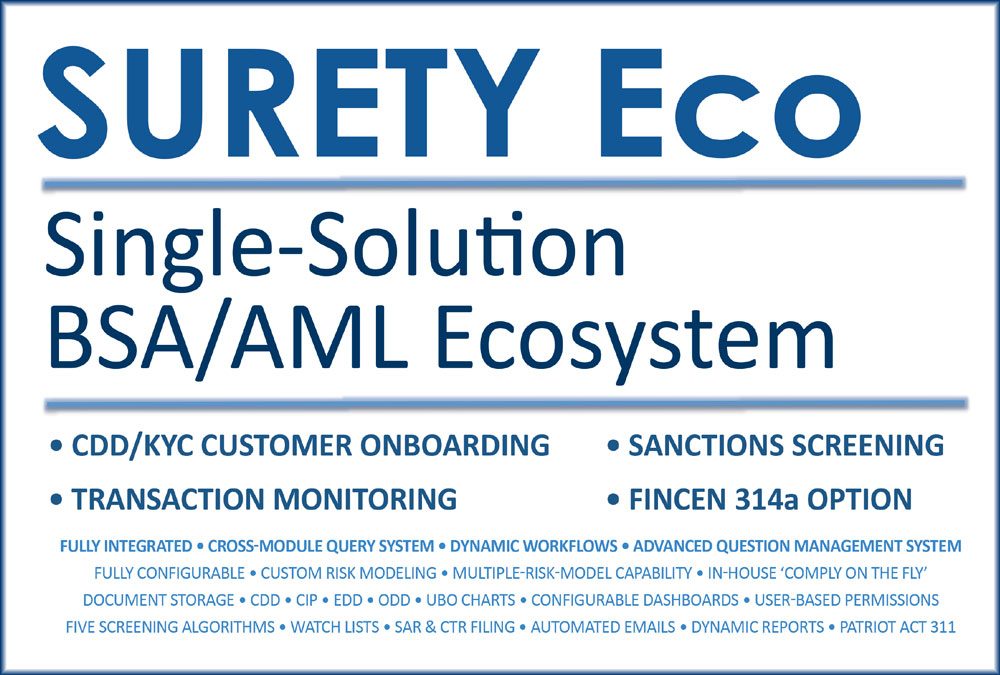 SaveSave
SaveSave