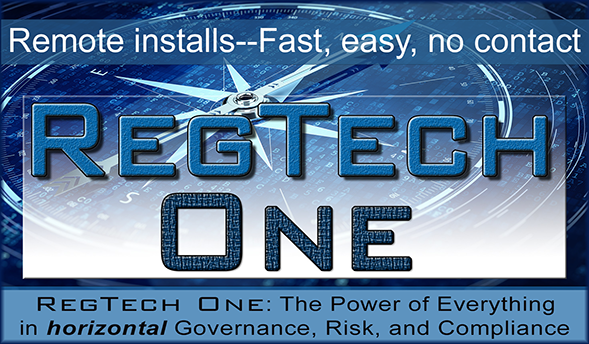 Covid-19 may be a great disruptor—but the ease of installing software remotely has proven invaluable in the face of Covid restrictions. AML Partners had pioneered the option of remote installations for its AML and GRC customers long before Covid, and that has proven to be an invaluable asset.
Financial institutions using RegTech One and SURETY for AML/KYC and horizontal governance need not host onsite technicians from AML Partners. Instead, everything is done remotely
"We have offered remote installations from the beginning," said AML Partners CEO Frank Cummings. "We are experts at remote installations."
He said AML Partners embraced that technology years ago because it offers an immense cost savings for the financial institution.
"There's no cast of thousands—it's just not required to implement the system," Cummings said. "Prior to the remote installation, all requirements are documented and agreed upon. And then our technicians complete each installation remotely."
He said visual communication tools like Microsoft Teams have added to the ease and effectiveness of communicating in advance of remote installations.
The client completes a Business Requirements Document that lays out the requirements of the institution and what they want the system to do. And then AML Partners personnel turn that BRD into a Functional Requirements Document, which can function as Statement of Work.
"At that point, we create a project plan, assign a project manager and resources, and execute the FRD," Cummings said. "With full customer cooperation, Implementation takes weeks rather than months or years. It's a huge cost savings for our customers, and it gets them up and running quickly and effectively."
Once a system has been fully installed, AML Partners turns the system over to the customer for User Acceptance Testing, and after that AML Partners helps the customer move the system into production.
"We do this all remotely," Cummings said. "We find remote installation to be an excellent choice in general, and it's crucial in the Covid context. No one from AML Partners needs to step inside your institution—and yet you have a complete installation of terrific software completed quickly and relatively easily.
________________________

Governance, Risk, and Compliance: Software solutions transform results, costs
AML Partners designs GRC and AML software solutions that transform the work of Governance, Risk, and Compliance. With AML Partners' platform technology for RegTech, AML and GRC software solutions are easier, faster, and so much more efficient. Contact us today to learn how platform technology and our SURETY-CDD and related AML tools can transform the efficiency and effectiveness of your unique GRC and AML Compliance efforts.  Contact us today to learn more or schedule a demo of SURETY-CDD or the RegTech One platform. With extraordinary configurability and built for API extensibility, the RegTech One platform powers a range of AML/KYC tools but also CECL workflows, vendor management, cyber risk workflows, FCPA workflows, and so much more. RegTech One: For your institution's Network of Applications and Ecosystem of Permissioned Data.